8025 Kids Camp is an elective-based day camp filled with lots of fun and the opportunity to enhance or learn a new activity! Children will rotate in pre-assigned, mixed-gender groups to their chosen electives in addition to large group recreation games, lunch, and Bible story time.
Please register your child in their current grade as age groups will be determined by the grade your child was in for the 2021-2022 school year.
Camp will run Monday - Thursday from 8:30am-2:00pm with drop-off beginning at 8:00am daily.
Camp will take place at 3751 Cottonwood Lakes Blvd, Thornton, CO 80241.
**Select TWO add-ons per child based on their grade- Elective 1 and an Elective 2. These will be the two electives your child attends daily. If an elective is full, you will not be able to select this add-on**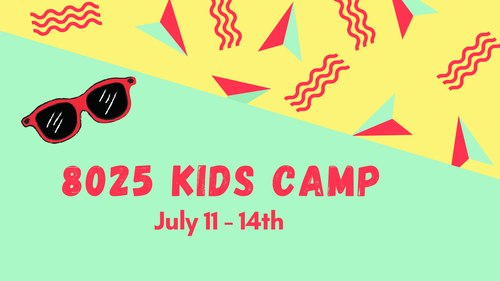 You can check your kids in with your amazing kids team or feel free to bring them with you to the service. You can even let us know your kids are coming ahead of time by filling out the info below.
Let us know you are coming.
Fill out the form below to get started.